ATTENTION!
​Due to the severe winter weather, we had frozen pipes burst inside our pharmacy causing extensive damage. Unfortunately because of this our location will be temporarily closed; however, we will operate out of Gus's Drug, our sister pharmacy in Georgetown.
If you are a current patient and need immediate assistance with your prescriptions, please call 512-863-2506.
​​We will continue to provide updates on our website and Facebook page. We appreciate your understanding and patience during this challenging time for our business.
COVID-19 ANNOUNCEMENT
We are taking the Coronavirus pandemic very seriously and working alongside our local practitioners to ensure that our community is able to get their medications while minimizing contact with other patients.
We want the experience to be as convenient for you as possible and are increasing our deliveries and will have our drive-thru open. We are not experiencing any shortages nor do we expect them.
If our patients need over-the-counter items like allergy or pain relief, we are happy to include those in deliveries or via drive-thru.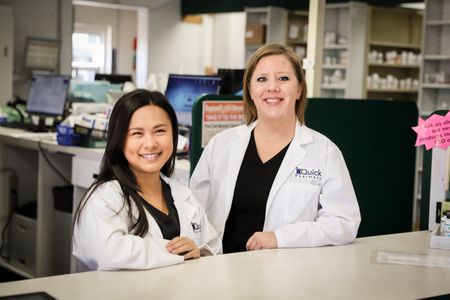 Lily Tran, Pharm.D and Autumn Lee, Pharm.D
"My experience with the people at Quick Pharmacy has been fantastic. They are always professional, extremely helpful, and all the while being super-nice!"
- Doug W.
"The pharmacists will always make sure to go over medications, even on their busiest of days. The staff is always friendly. It's always nice to see a smiling face."
- Veronica M.
"This place lives up to its name! And the staff are always kind, friendly, knowledgeable, and efficient!"
- Karen K.
Download Our Free Mobile App

Refill on-the-go
Refill your medications 24/7 on-the-go or when you're at home.

Easily contact us today with our mobile app.

Set reminders to take your meds or when it's time to refill.
Subscribe to our newsletter for seasonal promotions, health news and savings